Regular price
$92.00 USD
Sale price
$69.00 USD
Unit price
per
Sale
Sold out
What's included
A remote lab environment that enables hands on practice in actual software applications using only a browser and internet connection
Scenarios aligned with CompTIA exam objectives
Once redeemed, CompTIA Labs will be valid for 12 months
Discover whether IT is the right fit for you with IT Fundamentals (ITF+). We help you gain a broad understanding of IT as you begin to pursue a career in tech.
What are CompTIA Labs 
CompTIA Labs hosted by Learn on Demand Systems allow for hands on practice and skill development in actual software applications through a remote lab environment. The browser-based virtual labs align with CompTIA exam objectives and are based on scenarios found in the workplace. The labs within each course are independent of each other and can be used in any order.
Labs Available:
Setting Up the Computer
Navigating the Windows User Interface
Browsing a Website
Using Management Interfaces
Managing User Accounts
Using a Search Engine
Managing Software Applications
Using Scripting Tools
Using Programming Tools
Creating and Using a Database
Specifying PC Systems
Configuring Input Devices
Playing Audio
Using a Printer
Adding a Removable Drive
Using File Explorer
Network Settings
Web Security
File Sharing
Using Windows Defender and Windows Update
License Information
One CompTIA Labs for IT Fundamentals+ (ITF+) (FC0-U61) license – this is single user license and may not be shared 
Once activated, CompTIA Labs for IT Fundamentals+ (ITF+) (FC0-U61) is valid for 12 months
Access keys must be redeemed within 12 months of purchase
Learn by Doing with CompTIA Labs for IT Fundamentals (ITF+)
CompTIA Labs for IT Fundamentals (ITF+) provides learners with the necessary platform to gain critical hands-on skills and develop a deeper understanding of the subject matter to prepare for your CompTIA ITF+ Core Series Certification. CompTIA Labs allows you to address the practical aspects of ITF+ exam objectives and complement prior training through access to real equipment and software environments.
HOW YOU'LL GAIN HANDS-ON EXPERIENCE WITH COMPTIA LABS FOR IT FUNDAMENTALS (ITF+):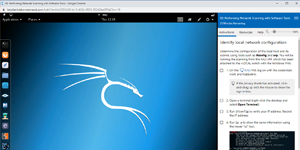 ACCESS TO HANDS-ON LEARNING
Browser-based access to software applications and operating systems used on the job.
WHAT YOU'LL LEARN WITH COMPTIA LABS FOR IT FUNDAMENTALS (ITF+)
CompTIA Labs addresses the practical aspects of the exam objectives on the CompTIA ITF+ exam, including:

SOFTWARE
Installing, using, and understanding operating systems, programs, technologies and file types

SECURITY
Identifying and preventing security risks

BASIC IT LITERACY
Setting up a workstation including conducting software installations and managing the safety and preventative maintenance of computers
NETWORKING
Configuring basic networks, including sharing, storage, and connection types
Share
View full details